by Synesthesia
The Interactive Dance Club (IDC) was an interactive dance party held during SIGGraph 98, a conference and exhibition on graphics and interactive technology in Orlando, USA.
Show
The IDC was held on consecutive evenings during the SIGGraph conference at the conference venue. The installation was shown at regular intervals during the night. There were various zones with different interactivity models.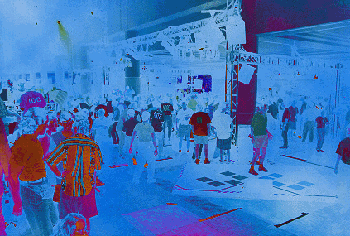 Technology
In the "Stomp zone" TapTile sensors were integrated into a custom floor. These sensors captured the weight displacement of a dancer. In the "Orb zone" Light sensors were mounted inside big spheres, so that visitors hands could be waved above them. All sensors were interfaced using the I-CubeX System. The sensor data was analyzed, interpreted and applied as a musical control parameter using a variety of software. The sensor data was also used to control Houdini, a procedural graphics synthesizer.