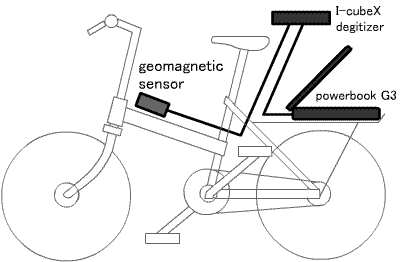 by Jo Kazuhiro / Tanaka Kazuhiko
Kyushu Institute of Design, Japan
Cycling NEWS Navigator is an Auditory Compass system. Usually, when we are cycling, we have to stop for a while to use a compass, because it is dangerous to go without looking forward. So, it is very convenient to present the direction through the sound. This way, we can be aware of the direction as measured by the geomagnetic sensor's interaction with the earth magnetism. The I-CubeX Digitizer translates the sensor data into MIDI messages which are generating / controlling the sounds.
 25 february 2002