by Anders-Petter Andersson


Vision - How can we explore the creative force in popular/techno music and jazz improvisation? How can we learn to master the intricate rhythmic of Thelonious Monk, the style of the horns from Stax records and Maceo Parker's JB Horns, the timbre in an ensemble, a Disco Jockey's montage techniques in reorganisation of other's musical material? These are questions that have bewildered music lovers, teachers and makers of software and electronic musical instruments for decades. In a research project in the Narrativity and Communication studio within the Swedish
Interactive Institute we explore possibilities created when music is used in a collaborative computer mediated environment.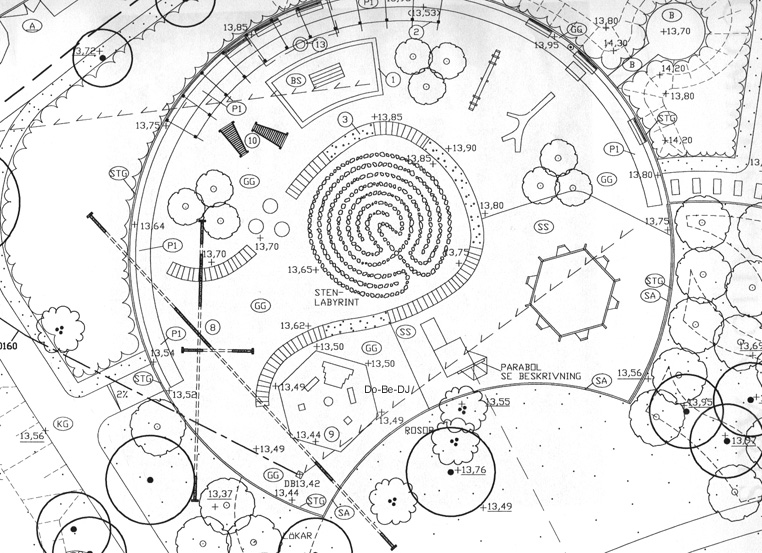 Design and Interaction "Do-Be-DJ" is a musical installation placed in a rough urban setting of a public park. The installation is a combination of a tape recorder, computer game and a sampler/synthesizer, connected to 26 bricks in concrete. The bricks are placed on the ground in a circular form, 6 meter in diameter. By touching and stepping on the bricks the players activate music and sound effect and are able to record and save their compositions The physical interface makes it possible for players to connect movement and dance in space with the musical events in real-time. Four of the bricks activates loops that creates a ground beat to improvise over, 15 melodic tones, six sound effects, and five functions for recording, stop, play and shifting sound banks. Do-Be-DJ contains four sound banks, divided in genres, from arrangement for horns, Hip-Hop, Music Concrete, to Jazz and Pop. Se also hardware structure and software structure in separate documents.

Patterns for collaboration. From the point of view of collaborative user situations, music collage technique is an interesting way of dealing with narrative structures and real-time events in open works/environments. With a limited musically structured material, the human player develops patterns that are dynamic, fluent, developed in action,
involving bodily movements, music creation and dance. In Do-Be-DJ the creation of these patterns are built on activities such as conversation, competition, collaboration and improvisation between two and/or more players where the system is one of the players. Many earlier works in the interactive music genre have taken film music and music for theatre as its point of departure, for example the use of leitmotif in the Jaws or the sword in Wagner's the Ring. We have seen narration in audio-interactive productions as a deviation from narration in cinema and theatre, without
recognizing oral cultures as the DJ Culture, and its methods for letting the player re-organize found musical objects as he interacts and collaborate with others on-stage over longer time.

Goals: 1) Build an interactive tangible installation for collaborative music montage creation. 2) Investigate design problems concerning the rhetoric of music structures in such installation. 3) Develop and formalize activity patterns for conversation, competition, and collaboration while constructing the installation. 4) Investigate three rhetoric layers in the interactive "text": space (private-collaborative-public), time (past-present-future) and interaction. Create and edit sound and movement in nodes in a content-based database. 
9 april 1999