by Sang Mah, Axel Mulder and Darek Garncarz
Sitrus was an interactive installation exhibited during CHI 96, a conference and exhibition on computer-human interaction in Vancouver, Canada.
Show
Sitrus realized an environment with an atmosphere of a market place with sounds and animated graphical characters controlled by the visitors motions. Sitrus was on display as an "informal demo" during the entire CHI conference at the conference venue.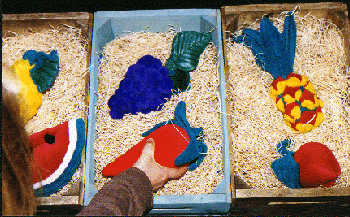 Technology
An instrumented floor was built using enlarged versions of 16 TapTile sensors, in a 4x4 matrix yielding a 6x6 ft surface. These sensors captured the weight displacement of a visitor. A park bench was instrumented with Touch sensors to capture a visitor sitting down and/or leaning back. Three baskets contained fake fruits made of stuffed fabric and instrumented with Touch sensors as well to detect touching and/or squeezing movements of a visitor. All sensors were interfaced using the I-CubeX. The sensor data was analysed, interpreted and applied as control parameters for the sound scape by using Max, a graphical programming language. The sensor data was also used to trigger animation sequences generated by LifeForms, a character animation software package.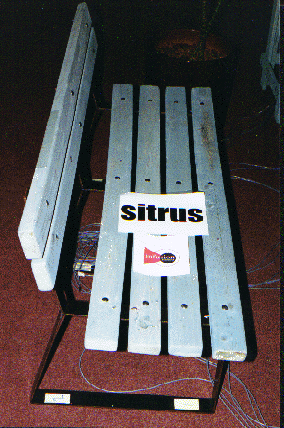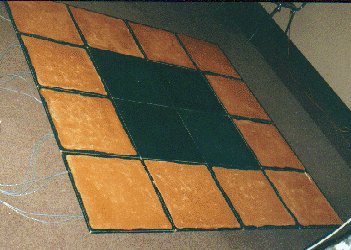 Acknowledgements
Many thanks to the CHI team as well the Graphics lab at Simon Fraser University ! And a big hug for Sang, Valerie and Simon.
References
Lifeforms by Credo Interactive
Max by Opcode Systems
I-CubeX, Touch, Taptile by Infusion Systems