This document will walk you through the procedure of installing the drivers and connecting to your USB-microDig using Max/MSP. For using the older BlueMIDI, software see here.
For this walkthrough, you will need:
Hardware
A USB-microDig.
Turn sensor (or any other sensor).
Software
A working installation of Max/MSP.
Virtual Serial Port driver.
loopMIDI virtual MIDI port software.
iCube external in your Cycling74/externals folder.
icubex.digitizer placed in the Max/patches folder.
Installing the Virtual Serial Port driver
The USB-microDig requires a driver to allow it to be recognized and represented by the operating system as a virtual serial port. You can find the driver here.
You will need to reboot after installing the drivers.
Installing the iCube external
The iCube object talks to the USB-microDig.
You can download it
here
.
Place the icube.mxo file (found in the objects folder within the zip file linked above) in the folder Cycling74/externals (Cycling74/max-externals in Max).
Installing and Using LoopMIDI to create a virtual MIDI port
Download LoopMIDI
here
. Run the installer, and then double click to launch loopMIDI. It will appear on the bottom of the screen, in the system tray.
Connecting to the USB-microDig with Connect
Connect is used to connect the USB-microDig and the virtual MIDI port set up in LoopMIDI.
Run Connect (it will appear on the bottom of the screen, in the system tray) and wait until it has automatically connected to your USB-microDig, then double click the Connect icon in the system tray. You should see the following:

Select the USB-microDig entry in the list. You should see the following:
Connecting to the USB-microDig
Once you've added icubex.digitizer to your patch, double click on it to see the controls. In the Digitizer section, select the USB-microDig from the pull down menu.
If you don't see the port listed, make sure your driver is properly installed.
Upon connecting, the port menu will turn green and the red LED on the USB-microDig will stop flashing. At this point, you can start receiving sensor data. To turn on any of the 8 analog sensor inputs, click on the "on/off" button associated with that input. The control for sampling interval control is immediately below the all- input control. The minimum setting, corresponding to the maximum sampling rate, is 1 millisecond.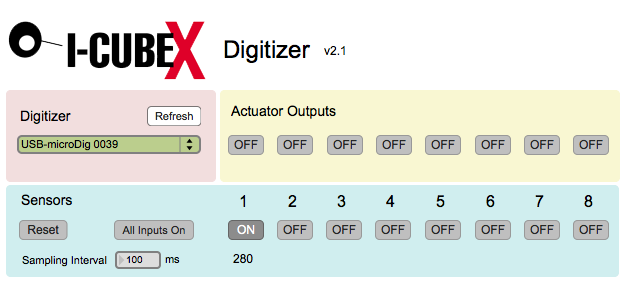 The sensor data is routed to the 8 outlets of icubex.digitizer, where it can be used by the rest of your patch. You can also include the plugin in a bpatcher. This and more is further explained in icubex.digitizer.maxhelp, which is included with the patch.

Digital Outputs
The USB-microDig has 8 digital outputs that can be set to either 0 or 5 volts. You can turn them off and on by using the digital output toggles.